 "Just send me a WhatsApp"… That's probably one of the most common answers you're getting lately from your customers when they need to receive quotes, invoices, or information about your services. Integrating and automating all these communication processes with your customers and managing leads has never been easier thanks to WhatsApp integration with Salesforce. Here is some useful information on the most common types of integrations and the best apps to carry them out.
Written by: 
Andrea Onhaus,
Salesforce Consulting Manager at Nuvolar
---
WhatsApp integration with Salesforce: Use Cases
2 million users every month and 100 million messages sent every day. These are the colossal figures of WhatsApp, and it would be crazy if we could not integrate this app with Salesforce, right?
So how about another question for you: Why should I do the integration? What are the Use Cases?
To start with, let me give you a list of the concrete benefits and use cases of this integration:
Lead nurturing: Your sales reps can send images, videos, brochures, and documents to your potential customers.
Order tracking: You can send automated messages to the clients with details about their order or/and any updates on their delivery
Customer support: Your support team can solve any issues in real-time via the integration, cases can be opened from the WhatsApp messages, follow-up can be done for a better customer experience
Customer feedback: Your customers can give immediate feedback on the company's products, services or delivery. This can be really helpful for future improvements of the process.
So in nutshell: WhatsApp Business makes interacting with customers easy by providing tools to automate, sort and quickly respond to messages.
Whatsapp integration with Salesforce provides you with great Automation tools to improve your Customer Service.
To get to the point of this article I will be introducing the 3 most common ways for this integration:
Salesforce's own products (Digital Engagement)
AppExchange apps
WhatsApp API integration
My, my. my! so many options. Let me narrow it down for you so you can make a better choice when selecting the best tool for your company.
I know, too many options! Let's narrow it down for you so you can make a better decision!
1. Salesforce's own products
1.1) Salesforce Digital Engagement:
The one I have worked with so here I can give some personal input as well. I have recently completed the set-up of WhatsApp via Digital Engagement. I can tell you… it was so much fun…and wow what a powerful integration.
Learn more about digital engagement and how to set up messaging channels for WhatsApp at Salesforce's Help site.
1.2) Marketing Cloud:
WhatsApp messages that can be sent from Marketing Cloud allow you to send two types of messages:
a. Transactional template messages such as shipping notifications or reminders of unexecuted purchases.
b. Session messages (eg.: user-initiated conversations).
2. AppExchange Apps: let me introduce you to some of the most used Apps
2.1) Avochato: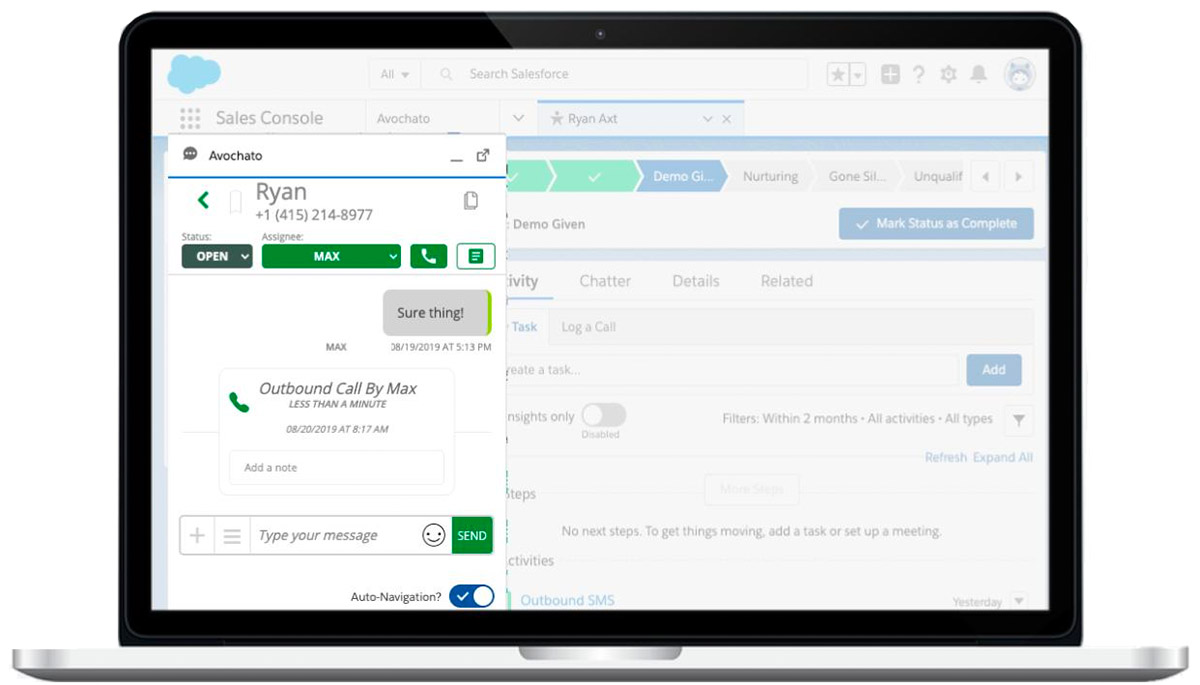 Thanks to this SMS Text Message App for Sales & Support features, organizations can manage all kinds of WhatsApp conversations:
One-to-one messaging.
One-to-many messaging.
SMS, live chat, WhatsApp and phone conversations managed from one place.
Skill routing.
Real time analytics.
Keyword triggered auto-responses.
Surveys.
Slack integration.
Embeddable live chat widget for websites.
Native mobile apps.
Programmable API and Message templates.
2.2) Tuvis (formerly Whatslly):
This comprehensive platform leverages AI-based routing technology to enable very interesting features:
Click to send WhatsApp message from Salesforce.
Create new leads/contacts in SF.
Dynamic Message Templates.
Copy chats into SF as activities, tasks or cases.
Auto Chat Syncing.
Upload files as attachments.
View open/closed opportunities.
2.3) Mogli SMS: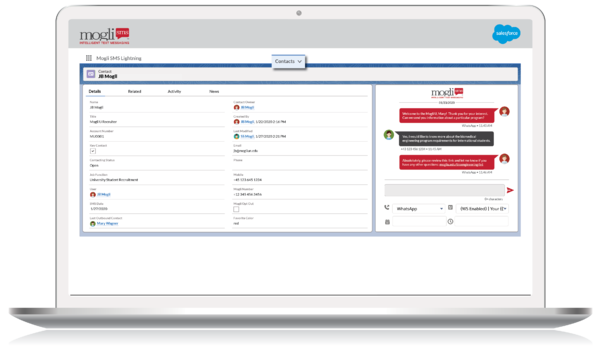 Mogli is a robust and very easy-to-use native Salesforce application for WhatsApp & SMS which allows:
Real-time 1-to-1 SMS & WhatsApp conversations.
Bulk SMS with campaigns, list views, and reports.
Immediate SMS notifications of incoming messages.
Auto-create Contacts/Leads, Cases, Opportunities and event registrations.
Voice features for auto-calling and text to speech.
Use Workflow, Process Builder, Flow and Triggers to Automate text messages.
Text to donate and pay.
Dashboard responses with the magic of Salesforce and get a 360-degree view of your clients.
Works with Twilio, Nexmo, MessageBird, Plivo, Telnyx.
2.4) 360 SMS:
Natively built on the Salesforce platform, this powerful App empowers the user to communicate effectively with Customers, Prospects and Business Partners across the globe through Single/ Bulk SMS/ MMS. These are some of its features:

Conversational 1-on-1 Texting.
Threaded text messages on any object; Link Tracking.
Drip Campaigns; Scheduled SMS & Event Reminders.
Bulk SMS/MMS, even from Reports.
Automated/Triggered SMS/WhatsApp through Process Builder.
Chatbot
Intelligent Text
Keyword-SMS based Responses.
SMS & Email Alerts.
WhatsApp:2-way global messaging & WhatsApp Live Chat from website.
Omnichannel SMS Routing.
Available for Sales, Service & Community Cloud: Marketing Cloud/Pardot/Marketo.
3. WhatsApp API integration:
Last but not least, there is the option of using WhatsApp Business providers, so you can directly integrate with SOAP or REST APIs.
This way all the transactions happen through API calls between WhatsApp and Salesforce.
Salesforce Consulting at Nuvolar
As explained above, there is a wide variety of options to carry out this WhatsApp integration with Salesforce, some with characteristics that are difficult to differentiate. However, it is still essential to identify the needs and goals of each business before choosing how to approach integration between these tools.
At Nuvolar we can help you with that. We have extensive experience developing projects of this type in different industries.
Contact us, we'd love to hear from you!
About Nuvolar:
We are a digital innovation consulting company dedicated to one unique purpose: helping businesses adopt world-class software solutions on the cloud so they can succeed!
GET TO KNOW US

Featured Posts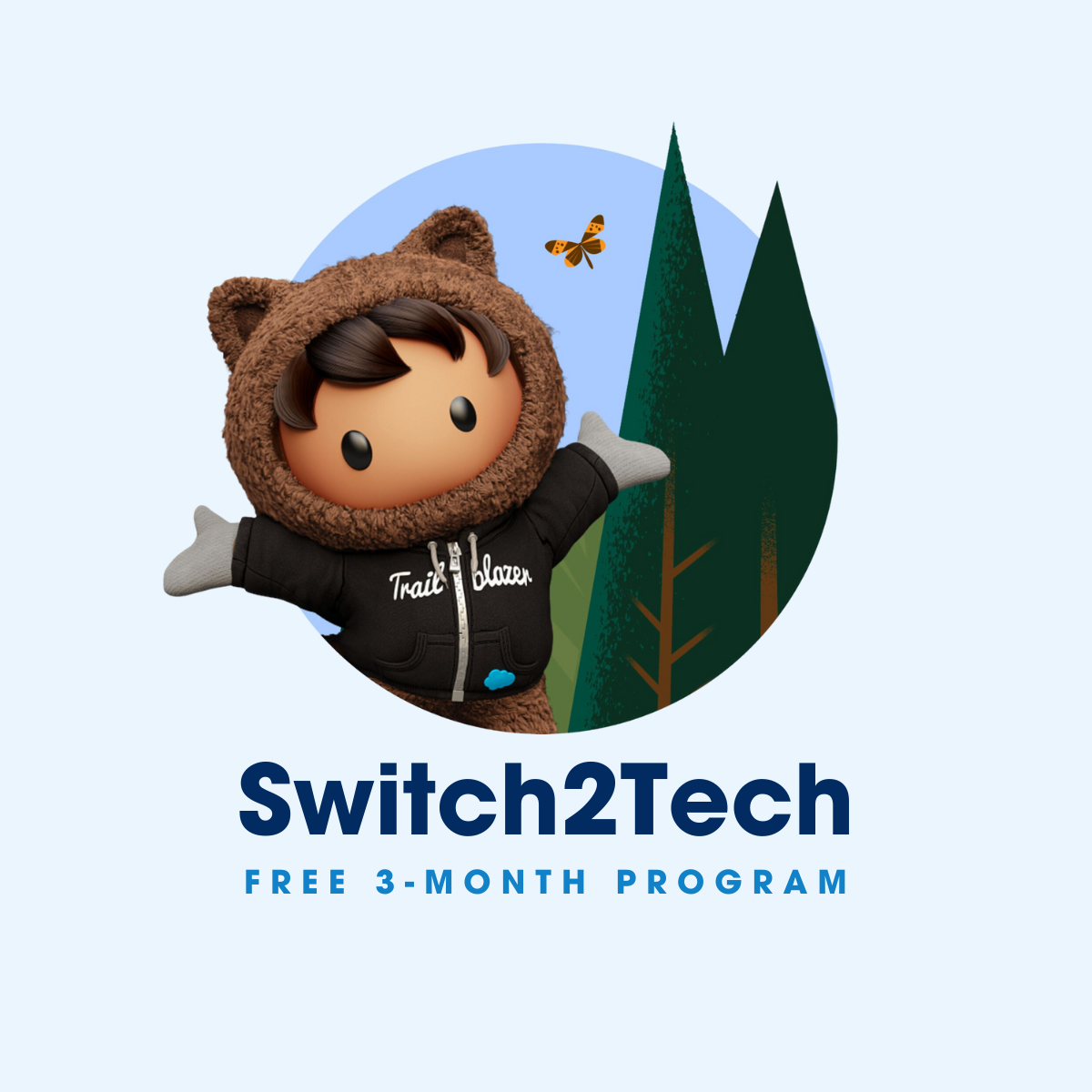 SEPTEMBER 21, 2023· BY NUVOLAR WORKS
Join "Switch2Tech": Our FREE Salesforce Program Open2Everyone!
3️⃣ months • NO previous experience required • Endless career opportunities ✨ • Official Certification! 🎓 Jump now into the world of Tech with this free online program organised by Nuvolar and Salesforce Talent Alliance! 🚀